WE FEATURE AND INSTALL PRODUCTS FROM THESE WELL – KNOWN MANUFACTURERS
Looking for vinyl kraft replacement windows that is a real heavy weight and has the most available options? If so, then Vinyl Kraft Windows is the right choice for you! Our family of windows have the best vinyl constuction you can ask for. When one of our windows are combined with our standard Super Spacer TM system and our glass gas and foam fill options, you can achieve one of the most energy efficient windows available on the market. Our windows also offer equal glass which gives you that beautifully traditional look. Browse our windows below and discover all the benefits that we have to offer.
---

---
Browse Viny Craft Windows Types Below
Double Hung
The Vinyl Kraft double-hung windows are made with thermal and structural performance in mind. This high-performance vinyl window makes maintenance a thing of the past. Enjoy the beauty, high performance, and maintenance-free convenience that only the Vinyl Kraft has to offer. Our double-hung window comes in standard colors of white or almond and offers unlimited exterior options.
Slider
Consider the Vinyl Kraft vinyl sliding window for a contemporary look and modern style. The smooth-operating brass rollers provide convenience and durability. These windows are a perfect addition to any room and will coordinate with any decorating theme. Note: Sliders do not have vent stops.
Fixed Lights
Fixed light windows are assembled with effective insulating low-energy glass sealed units. For this reason, large glass areas are no longer synonymous with huge heating bills. The fixed window frame is ideal for places where lots of light is desired, or as a exterior architectural design element in glass or to optimize a panoramic view.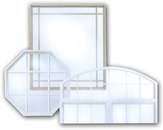 Shapes
The Vinyl Kraft window comes in an almost endless number of architectural and geometric shapes. Half rounds, quarter rounds, eyebrows, ovals, triangles are just a few of the possibilities. From the inside you will gain new decorating options and light entering the room. Plus, from the outside you will add distinctive architectural design elements. By adding shapes and fixed lights to operating windows you can create focal points for your home.
EZ Tilt
Here is a unique window design that has the features of a casement combined with the benefits of a slider. The EZ Tilt will slide open as a slider and will also tilt, like a casement. Benefits of this window include an almost unobstructed view while also allowing for maximum ventilation. Cleaning of both sides of the window can be done from inside the home. It makes for an extremely secure window from the outside while making it an excellent emergency exit.
Casement
Casements are an unbeatable combination of beauty, versatility, and technology that create a unique look. With effortless crank handle operation and weather tight seal, the casement is the natural choice for your home improvement needs. The added security of the multipoint locking system is standard.
Bays
The traditional design of the bay window allows any homeowner to add style and value to their home with the assurance of unsurpassed quality and beauty. From inside the home Bays create a focal point and an area for displays and plants.
Bows
Add an elegant look to your home with the bow window. The quality of our construction is one of the best in the industry. This design adds variety to any decor while allowing you to enjoy an expansive outdoor view.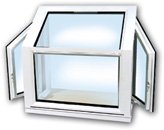 Garden
Bring the outside into your home with the addition of our garden window. Our garden window has an exclusive hardware design that keeps window operation and locks within easy reach so that you can enjoy the outdoors without any inconvenience.
Awning
Awning windows are hinged at the top an swing out from the bottom. This allows for some unique architectural design combinations. They have all of the same features as our casement windows.
Hopper
The Vinyl Kraft Hopper window is designed for ground level and basement applications. Being made of vinyl, eliminates the ground moisture issue associated with most other types of windows. The window tilts into the room to allow for ventilation and to help reduce humidity issues. This is the perfect choice for that finished basement application.